PRO-Audio Visual Automation and Control Systems
An AV control system is a special system that connects all the different AV equipment in a meeting space. You can then control everything in the room from one interface – typically a touch screen or a keypad – effectively removing the need for a stack of remote controls and a jungle of cables in the room.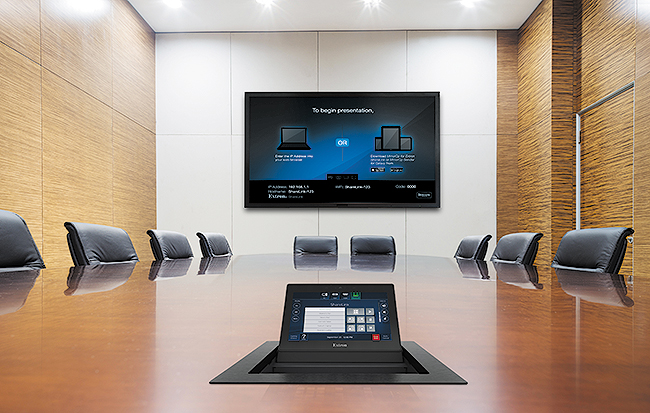 Professional AV equipment performs better than consumer equipment in a setting where AV control is required. The general product quality is also higher overall.
The terms 'AV equipment' and 'AV control systems' might not necessarily be words that are in your daily vocabulary, but AV equipment is doubtlessly something that you see and use daily at your workplace. AV stands for audiovisual and refers to a wide range of audio and visual devices. Some examples could be smart boards, projectors, displays, webcams, sound systems and other devices typically found in meeting rooms or conference rooms.
A seamless experience across devices
The modern workplace – and the modern workforce – have moved into the digital age and AV equipment is, therefore, playing a more important role than ever before. Workers/employees use a variety of devices (including laptops, tablets and smartphones) to connect, companies are increasingly international and remote working is growing in popularity. The modern workplace takes advantage of video, audio, instant messaging and other collaborative softwares to communicate across geographical locations and time zones. As a result, AV equipment needs to work together seamlessly to enable communication, support users during their meetings and provide a positive experience.
AV control systems- eliminating users' frustrations
There is a lot of anxiety about the AV equipment in meeting rooms. Most people have had negative experiences in meeting rooms; remote controls were missing or didn't work, too many cables tangled up on the floor and no idea which one to use, bad connections and poor-quality sound and video in a conference call. Meeting rooms and AV equipment have gotten a bad reputation; AV equipment, especially pro-level technology, is perceived as being overly complex, and therefore, intimidating. Technology users' biggest fear is that of not being in control; where one feels that the technology – not the user – is dictating what can or cannot be done.

This is where AV control comes in. An AV control system is a device that can be thought of as the brain behind the scenes; connecting and controlling all the equipment in a meeting room. An AV control system then provides the user with ONE simplified and streamlined interface that can control the equipment individually or simultaneously.

A good control interface should be easy for users to understand and use. Ideally, the interface's design should be inspired by other types of interfaces; ones that everyone is familiar with, such as smartphone interfaces. The control interface would, therefore, be recognized instantly, and users could start using it without requiring an explanation.

Another benefit is reducing the amount of support time from the IT responsible/IT department, as the control system solves the most common issues and the interface is so clear and simple to use.
How you can benefit from an AV control system
Control all the equipment from one central location
ONE streamlined interface to control devices
A solution that is tailored to your room, your equipment and your needs
Reduce technical onboarding and the learning curves for users
Reduce IT support time
Make it easy for meeting room users and presenters to get started fast
Increase user satisfaction thanks to a more efficient and effective meeting room
What can an AV control system do
Switch lights on and off, or control their output levels
Provides ONE streamlined interface to control devices
Turn various devices on and off, such as displays, projectors, cameras and microphone
Control speaker volume and mute volume
Upload content to devices – such as projecting your laptop screen to a display or TV
And much more!
Get in touch with us today
Here at BM Investments Ltd, we are the leading suppliers and installers of high quality Audio Visual control systems across Rwanda.