Fire Fighting Equipment
FIRE EXTINGUISHERS
There are 5 main fire extinguisher types – Water, Foam, Dry Powder, CO2 and Wet Chemical. You should have the right types of fire extinguisher for your premises.
The various types of fire extinguisher put out fires started with different types of fuel – these are called 'classes' of fire. The fire risk from the different classes of fire in your business premises will determine which fire extinguisher types you need.
You will also need to make sure that you have the right size and weight of fire extinguisher as well as the right kind.
There is no one extinguisher type which works on all classes of fire.
Below is a summary of the classes of fire, and a quick reference chart showing which types of extinguisher should be used on each.
We then provide a detailed explanation of each type of fire extinguisher below
The classes of fire
There are six classes of fire: Class A, Class B, Class C, Class D, 'Electrical', and Class F.
– Class A fires – combustible materials: caused by flammable solids, such as wood, paper, and fabric
– Class B fires – flammable liquids: such as petrol or paint
– Class C fires – flammable gases: like hydrogen, butane or methane
– Class D fires – combustible metals: chemicals such as magnesium, aluminum or potassium
– Electrical fires – electrical equipment: once the electrical item is removed, the fire changes class
– Class F fires – cooking oils: typically a chip-pan fire
Which fire extinguisher types are used for each class of fire?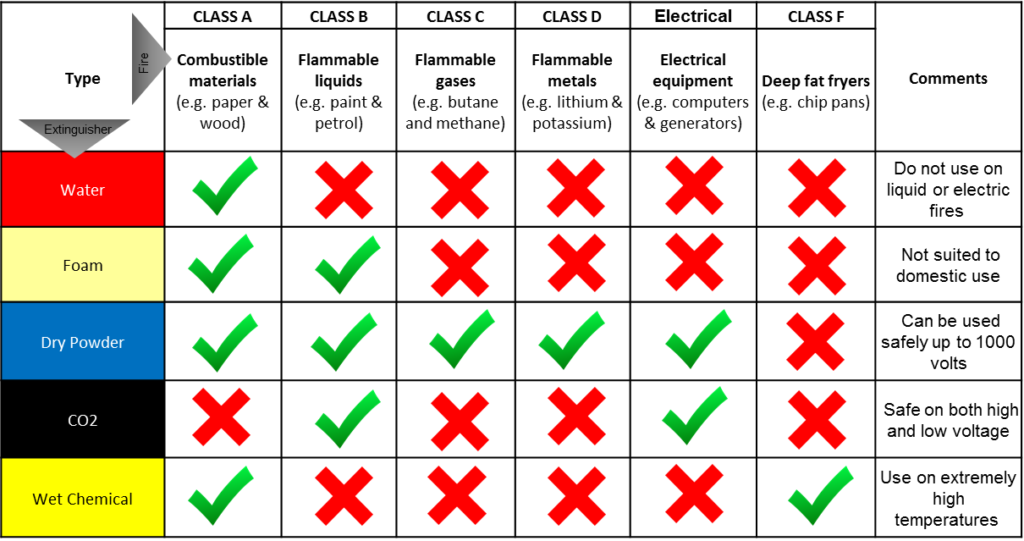 At BM Investments Ltd, we offer a variety of Fire Fighting Equipment for businesses in Rwanda and East Africa.
Schedule A Fire Fighting Equipment Installation
When scheduling for fire fighting equipment installation throughout Rwanda, East Africa, you want to be sure you choose a reliable company. We can help you get the job done in a timely and efficient manner.
Contact us now to discuss suitable Fire equipment installation for your organization!